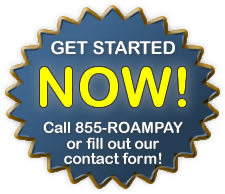 Contact Information
Address:
Merchant Network Inc.
1330 Niagara Falls Blvd. Suite 204
Tonawanda, New York 14150
Sales:
1-855-ROAM-PAY
1-855-762-6729
Technical Support:
1.888.589.5885
About ROAM
pay

Wireless Merchant Processing

Using ROAMpay doesn't matter if you are a small or large business, sell face-to-face, or remotely. ROAMpay allows you to conduct business as if you had a regular POS terminal right next to you. However,

you don't have to carry around the bulky machine. Just connect your ROAMpay credit card reader to your cellular device and start accepting payments quickly, easily, and securely with this mobile credit card swiper. Swipe with confidence and swipe for the best rates available!
With ROAMpay Swipe, it is very lightweight and compact and it can fit right into your pocket and plugs into your cellular devices's 3.5mm headphone jack. Swipe with confidence by doing a simple swipe of the customer's credit card and the transaction is completed. The transaction utilizes end-to-end encryption to protect your customer's sensitive information and will never be exposed. ROAMpay Swipe works with iPhones, select Android phones, and select BlackBerry phones.
Swiping a credit card is the fastest and most cost-effective way to process transactions. Our ROAMpay Wireless device is lightweights and plugs right into your headphone jack on your cell phone. Furthermore, using ROAMpay to take payments lets you take advantage of some of the lowest rates available!
Once the transaction is complete using ROAMpay and the Swiper device, save trees and show off a higher degree of professionalism. Email a ROAMpay receipt to your customer so they can have a copy for their records.
ROAM
pay

Wireless With Swiper Demo Video